In today's world almost every transaction is virtual, which means it relies heavily on firewalls, anti-virus programs and safeguards to keep your financial data and personal information secure. However for every virtual wall built, there is a hacker writing programs and a scammer in the sidelines planning to steal your data.
Tax time is usually a prime time when tax scams surface, such as fake ransomware, fake tax debt, or links that open a virus on your computer coming from the 'Australian Taxation Office' (ATO). The scams are endless and are often very hard to identify. It's enormously important to stay on top of your game, update to the best virus protection programs and also be aware of the latest scams so you know if you're targeted.
Pro Tax Tip: The ATO has a page dedicated to the latest tax scams. ITP Tax Agents are briefed about these scam as they occur. If you're unsure, a quick call to your local ITP branch can sort out if you've been targeted or not.
MyGov Scam
Scammers know that most Australians have a MyGov account. While this can be a handy portal, it's also highly scammable. Many scammers have impersonated emails, SMS messages and even direct phone calls pretending to be someone from MyGov. This is in the form of checking a fake tax debt or tax refund by logging into your MyGov account and can be accompanied by threats or immediate legal action.
Your personal information is valuable, and your MyGov portal contains your most sensitive information in one place. Your Tax File Number (TFN) should only be given to the ATO, your employer and your tax agent. Your TFN is your personal identify through which your salary or wage, PAYG, medicare, superannuation and other government details are connected. If a scammer identifies your TFN, they can steal your money and also your virtual identity – all from one location!
Most scams linked to MyGov take the form of clickable links to check your tax affairs, lodge your tax return or verify a tax debt or refund. Do not click any link you're send via email or phone. MyGov and the ATO will not send you any direct clickable links.
Pro Tax Tip: If you are contacted through MyGov, it pays to check with your ITP Tax Agent. They'll know if you've been approached by a scammer, and can look into your ATO account to verify if you're safe. A five minute phone call can save potential financial ruin.
---
CHAT WITH A FRIENDLY ITP TAX ACCOUNTANT TODAY
---
Ransomware
Ransomware is like acid to your computer or device. Once it gets in, it makes your computer or device unusable. Scammers used ransomware to deny you access to your device and then demand you pay them back for access. Sometimes, it can even stop your device from working altogether.
Ransomware can burrow into your device through unsafe websites, opening emails from unknown sources or by clicking on malicious links in emails or on social media. You've most probably been targeted if you receive pop-up messages requesting funds or to make locked payments, you can't access your device, requests for changes to passwords, moving files or unusual file extensions.
Pro Tax Tip: Make no payments! Double check with known and trusted sources to see if you're a victim of ransomware
Fake Tax Debt
If there's one thing about the ATO, they'll never spring a fake tax debt on you. You'll know about that long before any threats are made to ask you to 'pay up or else'.
Fake Tax Debts are usually received via phone. Victims are tricked into thinking they're speaking with a member of the ATO. A quick phone call back will confirm if you've been contacted, however if you're the victim of these types of calls, the caller usually won't let you off the call. They'll often connect you through to 'someone else', or put you on a 'conference call' while on the same call to verify where they're calling from. The other people you speak to are very often their partners in crime.
Never send these scammers personal information. This includes photos of your license, passport, copies of gift certificates or anything bought over message apps.
Pro Tax Tip: If you're unsure if the caller is from the ATO, call our number 1800 467 033 to confirm. Your ITP Tax Accountant will also be a trusted source if you're still unsure and don't want to contact the ATO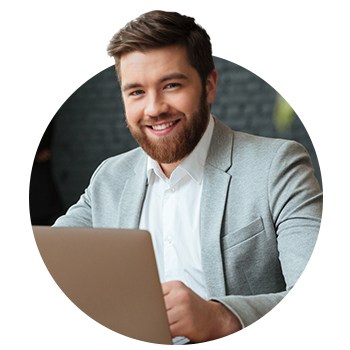 HOW TO PROTECT YOUR BUSINESS FROM SCAMMERS
Fake Invoices
This scam usually targets busy small business owners. Fake invoices are sent from companies that the business has bought supplies from. A busy small business owner will likely not double check if an invoice is real at a quick glance. These fake invoices are usually sent though for 'urgent' payment to rush it through. Scammers will go to a lot of trouble to make the invoices look as real and genuine as they can to cause confusion.
Invoices can be sent directly, but also can be followed up with an email requesting payment to a direct link from the 'supplier'.
Pro Tax Tip: It pays to double check the bank details of 'urgent' invoices to make sure they match what you have on file
Tax time cyberscams that target small business occur when business owners are contacted by fake business owners or representatives. Their aim is to trick the small business owner into transferring money or sensitive information to the scammer. These scams cause significant financial damage to small business who can't afford them and account for 63 per cent of all business losses, on average costing the business $30,000!
Be wary of unexpected emails from suppliers. Double check if they have sent you an email demanding payment especially if they're out of the blue. Teach your staff to look for red flags and never give out personal financial information over the phone. If you hire a bookkeeper, ask them to double check banking details with what you have in the system before making payment.
Pro Tax Tip: If you or your business has been breached, contact your ITP Tax Accountant immediately. You'll be advised as to what you should do and give you the right contact details so you can get help.